Story by CPT Andrew Layton
Photos by 1LT Ashley Goodwin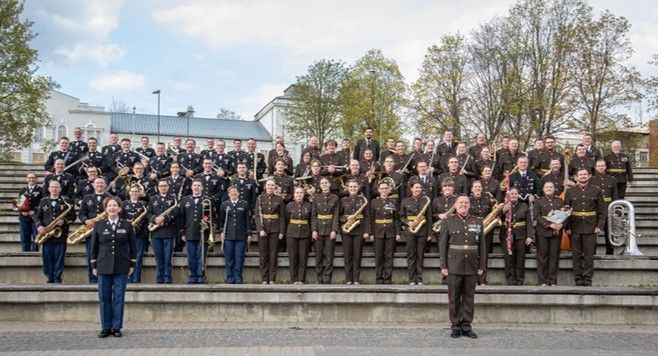 RĪGA, Latvia – The Michigan National Guard's 126th Army Band teamed up with the Latvian National Guard Orchestra to give three joint performances in Latvia between May 2-5, 2023. The performances were part of a series of events held to formally honor the 30th anniversary of cooperation under the State Partnership Program (SPP) between Michigan and Latvia. Formed in 1993, the SPP links a state's National Guard with a partner nation's military in a cooperative, mutually beneficial relationship.  
The three concerts took place in the Latvian cities of Rīga, Alūksne, and Rēzekne. With more than 50 band members coming together on the stage for each performance, preparing for the concert series was a significant undertaking.  
"The mission felt like a long overdue opportunity to symbolize the strength of our State Partnership Program with Latvia," said SFC Chris Hurban of the 126th Army Band. "They were most recently able to visit us in 2018 and the last time we visited them was in 2001."  
Hurban said preparation for the trip, which included several virtual rehearsals, began last August and continued until the band climbed aboard a Michigan Air National Guard KC-135 from the 127th Wing at Selfridge Air National Guard Base for the flight to Latvia.  
"While we've logged thousands of miles traveling around Michigan during the last two decades, we haven't had the opportunity to perform and collaborate overseas," he said. "This long-awaited mission gave the Soldiers the invaluable experience of making music – an international language – with our Latvian partners, who are now dear friends."  
For several members of the 126th Army Band who participated in the first joint performances in Latvia more than 25 years ago, the trip was a welcome reunion with old friends and familiar scenes.  
"Our time in Latvia in 1996 was [in many ways] very similar to our visit here in 2023," said CW3 Kimberly Ferrante. "I enjoyed hearing from the older Latvian musicians who remember members of the 126th Army Band in 1996, 1998, and 2001. It helped me see that time is not a limiter to our collaboration and solidarity."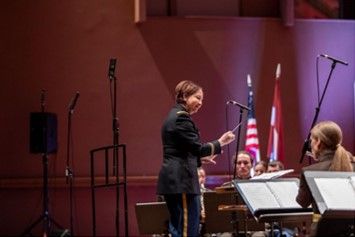 Since then, the SPP has accomplished much. Its achievements include the development of the Latvian National Guard, medical and engineer cooperation, the establishment of Latvia's Joint Terminal Attack Controller program, multiple combined deployments to Afghanistan, and the certification of Lielvārde Airfield as a fully functioning base for NATO air power.  
Highlights of the trip include the performance in Riga on May 2, attended by U.S. Ambassador to Latvia Christopher Robinson and Latvian Minister of Defense Ināra Mūrniece. In Alūksne, the band also marched in the Latvian military parade celebrating the 33rd anniversary of Latvia's restoration of independence on May 4. Some of the events also included traditional Latvian folk dancing.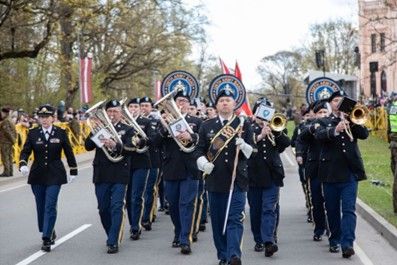 1SG Andrew Schwallier, one of the band members who has participated in all three previous Michigan National Guard band missions in Latvia, said he is still inspired by what he has been able to share with his Latvian colleagues.  
"It is incredible to see the tremendous resiliency and pride that the Latvian people have in their nation," he said. "It has truly been an honor to participate with their Army, Navy, and National Guard Orchestras over the past three decades."
Gratitude was also reciprocated by the Latvian side of the partnership.

"I was really excited to see the band from Michigan again – it was five years ago that we were in Michigan with them and it never seems enough," said LT Kaspars Puikevics-Puikevskis, of the Latvian National Guard Orchestra. "They are such talented musicians and I love performing with them and hanging around with them. Performing together has been a great experience and I hope we can do it again sometime."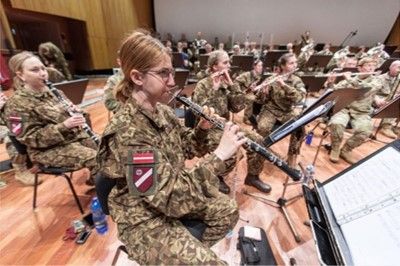 While the trip was, in many ways, a familiar reunion, it also came with its share of unexpected experiences. One night, the 126th Army Band was housed in a barracks with dozens of Ukrainian soldiers who had been training in Latvia to defend their own country.

"It is difficult to quantify how this mission has strengthened the camaraderie and morale within our unit," said Hurban. "The mission expanded our horizons and provided many moments for self-reflection, expression of gratitude, and increased understanding of the complex world we live in."

Ultimately, the 126th Army Band's mission in Latvia – to symbolize 30 years of mutually beneficial security cooperation and share the partnership with the Latvian public – was a success.

"The 126th Army Band is a strategic asset and I am extremely proud of the way these Soldiers came together to perform seamlessly with Latvia's National Guard Orchestra as a single entity," said MG Paul Rogers, Michigan National Guard Adjutant General. "Whether from Michigan or Latvia, these musicians are incredibly talented. Music is the perfect way to symbolize the power our partnership has to bring people together and do new things we cannot do alone."